PE
PE at St Amand's is varied and exciting. We are part of the Vale Sporting Partnership, which allows us to compete in many competitions through the course of a year. Mrs Duggan, our PE teacher, teaches PE to all year groups on a Wednesday. Our Sports coach from Ignite Sport teaches two classes on a Thursday morning. Miss Bush leads a Wake and Shake session each Thursday from 8.15 am. Class teachers also teach PE.
The children participated in a World Cup competition, hosted by Miss Bush and the Ignite Team. What a brilliant display of football skills and talent, sportsmanship and good fun! The winning team were Spain and the runners -up were England!!!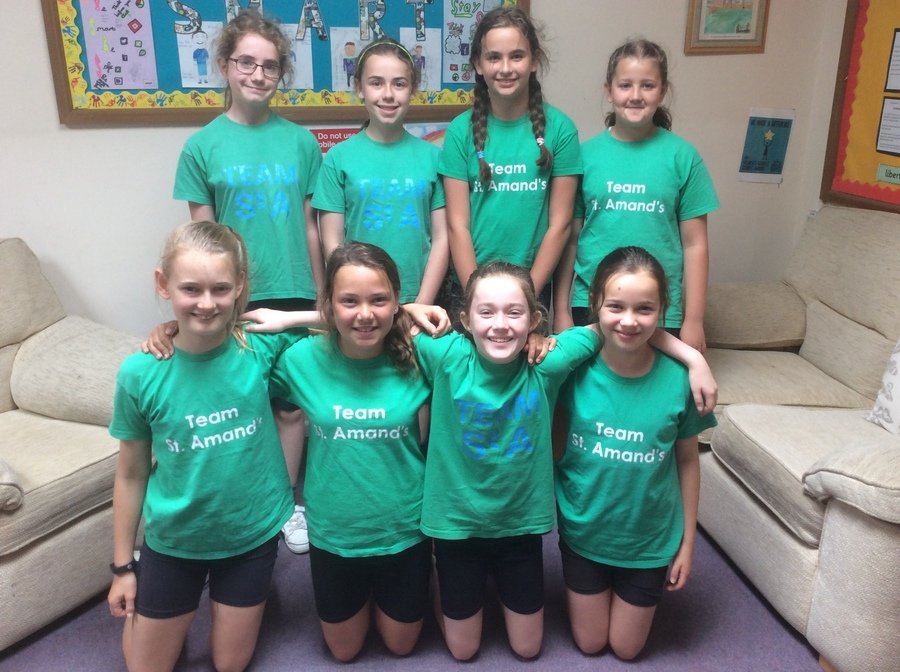 Our Year 5 roving reporter, Jessica Gilligan, wrote the report for the Year 5 and 6 cricket squad. The boys and girls teams were fantastic and had an amazing competition.
So far this term.......celebrating the childrens' achievements and awards
Dance Workshop:
Eight children represented St Amand's School at the Dance Workshop at Wantage Leisure Centre. As you can see from the photographs, the girls loved every minute!
The Year 5 and 6 football event, held at Millbrook School was a brilliant competition and our team proved themselves again to be super sports ambassadors.
The match report was written by Sarah.
The Year 5/6 netball event was hugely enjoyable and both teams A and B were fantastic competitors. Isaac Kershaw has written the report about the A team's dramatic progress through the competition.
Meet our Sports Ambassadors. ....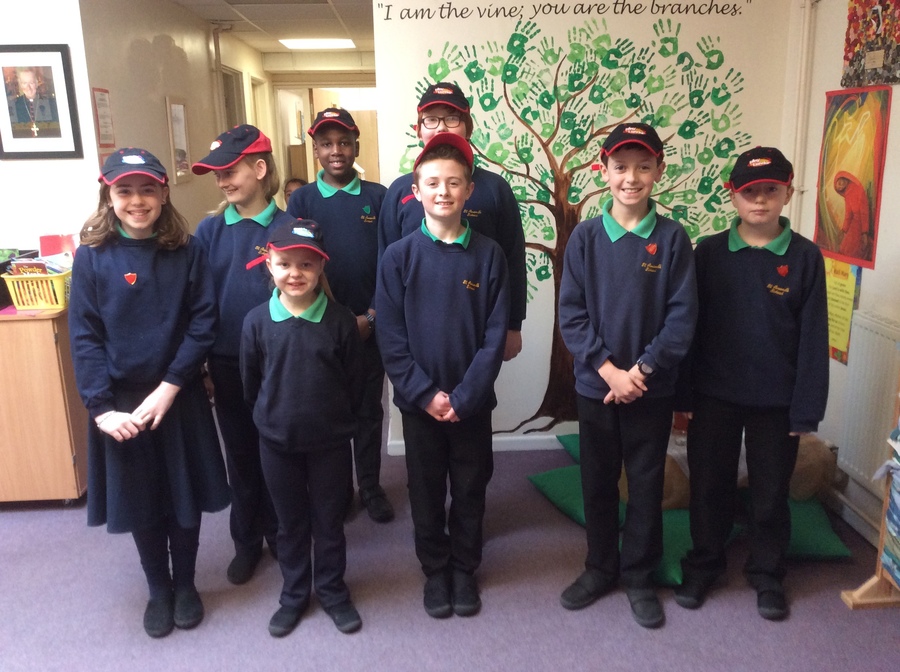 Sports' Visitors to the school.
Over the past couple of terms, St Amand's have welcomed visitors who have talked to the children about their sport. They were hugely inspiring and promoted the importance of how sport can change your life - it's fun, it is essential for good health, you make new friends and you learn how to be part of team....and so much more!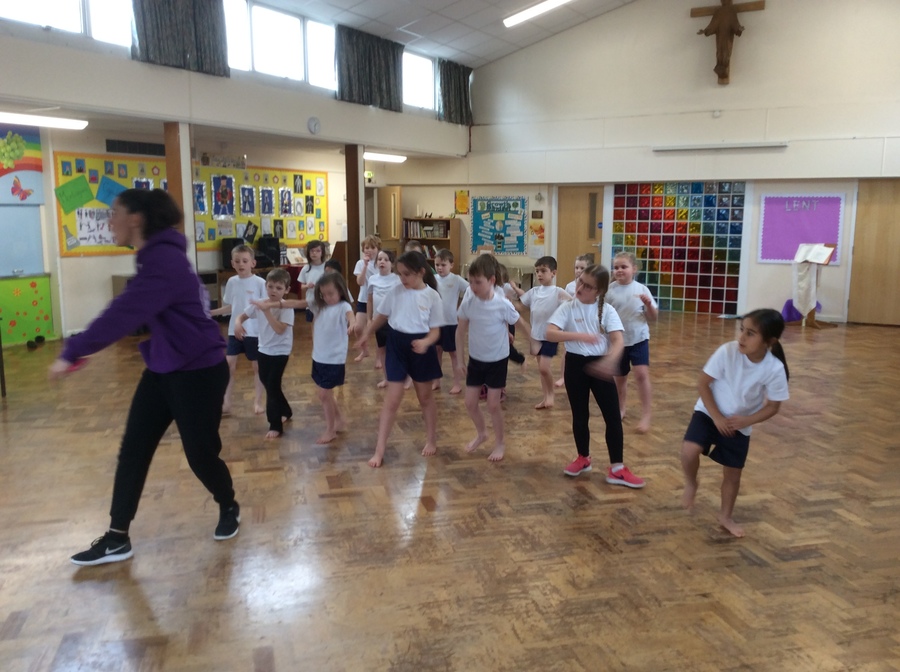 Miss Jillian from the American Dance School worked with Hedgehogs class on their moves! They created an amazing Hip Hop Dance to perform to KS2.
Carl, a martial arts instructor demonstrated some kicks from the Taekwondo discipline. The children understood that this sport was only to be done under supervision, at a club.
Tom, a tennis coach put the children through their paces showing them different sized balls and tennis racquets. We hope to have Tom back in school to do some tennis coaching with the children.
Celebrating our achievements outside of school!
WE ARE AN ACTIVE SCHOOL!!! These photographs were taken,in Term 3, and show just how much we move over the space of one day at school!
Well done to our Years 5 and 6 competitors who entered the Grove Tag Rugby Tournament. The team played brilliantly against some tough teams that included
St Nicholas', St Michael's, Stockham and Ridgeway. All the children showed excellent sportsmanship and encouraged each other throughout the games, especially important as the conditions were very poor - cold, grey and very wet. Luckily, the team spirit, the hot chocolate and the biscuits kept our spirits high.
Our top scorer was Callum, closely followed by Alex, Patrick and Ben. Well played everyone!
Eight Year Six children have been chosen to be the Primary School Leaders for St Amands. They have a responsible and important job leading others to be more active during break times.
They will organise games, teach new games, devise new games, motivate others to better personal challenges and lead warm ups during sporting competitions (amongst other things).
They enjoyed a trip to Wantage Leisure Centre to develop their leadership skills on a Primary Leadership Course. Good luck to all of you - and keep on being active!!
Four teams competed in the cross-country event at Wantage Memorial Park on Friday, 22nd September. All the competitors were amazing, completing a challenging course to the best of their abilities! A special mention should be made about Joe Foley, who finished third in the Year 3 / 4 boys event. Well done to all our super-fit runners!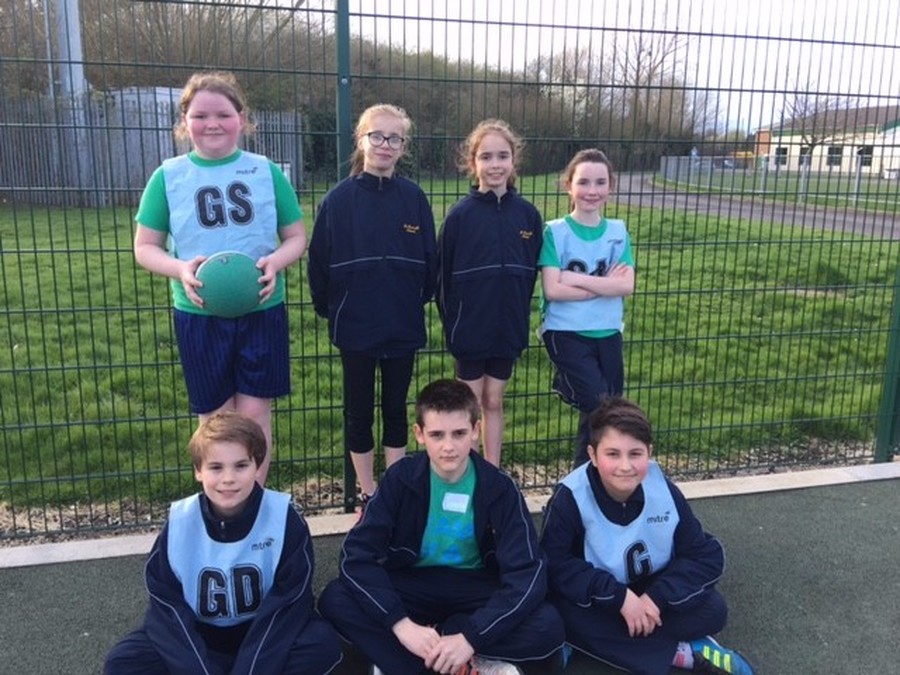 Quad Kids Athletics:
What a fantastic effort by our Year 3/4 and Year 5/6 teams! Well done to James Fisher who came
third in the Year 4 category. Year 3/4 team came 6th and Year 5/6 team came 4th overall. Both
events were hugely enjoyable and the children were great ambassadors for St Amand's School.
Cross Country at Sonning Common .
The KS2 Dance group performed to the Elvis hit -A little More Satisfaction-at the New Theatre on 8 December 2016. They were amazing! Well done Mrs Baker, Miss Price and children!
Our super Cross Country teams, September 2016
This year we competed in the Wantage Cluster Cross Country competition; children raced against about fifty children. They worked fantastically as a team, clearly pushing their own personal boundaries in running. Our Yr 3/4 boys' team came third and will represent the school in the Vale competition next month. All children should be proud of their determination, sportsmanship and perseverance.
Many achieved their personal bests
Helena came first in her race,
James third, Harriet fourth and Grace seventh
Oxfordshire Dance Festival at the New Theatre - 7 December 2015
Twenty eight key stage two children danced to Matilda's 'Revolting Children' song. We were absolutely brilliant. We had a lovely day. After our rehearsal on centre stage, we enjoyed a trip to the National History and Pitt Rivers museums in Oxford. We were so excited about dressing up and performing in front of our parents and a large audience! For some of us, it was the first time we had performed. What a brilliant experience! We think Miss Robinson is a fantastic teacher who helped us to choreograph our dance. Thank you.
Last school year we participated in the Oxfordshire Dance Festival at the New Theatre for the first time. It was brilliant!
We are now practicing for this years dance festival, which is based around Matilda The Musical's, 'Revolting Children' song.
Our Yearly PE Curriculum..
2016-2017
Our fantastic past achievements in competitive sport:
Our mixed Yr 3/4 won the Vale small schools football finals 10-1. They will compete in the Oxfordshire County final on 16th April. The same team won the Yr 3/4 inter-schools football tournament that we hosted, organised by Ignite sport.
Yr 3/4 Cross Country Team made it through to the next round at Tilsey Park
Yr 5/6 netball team competed in the WASPs tournament
Our Yr 3/4 mixed tennis team won the WASPs competition.
They also won Vale round on 13th May and go through to the County round.
Yr 5/6 competed in the WASPs mixed cricket tournament.
Yr 3/4 won the WASPs small schools athletics competitio

n
Yr5/6 won the WASPs small schools athletics competition
Yr 3/4 tennis team were silver medalists in the Oxfordshire County Tournament
Our Wimbledon Wednesday Inter-School Tennis Competition 2016
Children's PE Comments
Aisha
I've learnt in sport, that it is not about the winning, it's about the taking part. How has sport benefited me? I have learned that I can run faster if I move my arms up and down.
Maddie
I do enjoy sport! It's my favourite subject and my favourite sport is athletics.
Amalia
I think sport has made me determined to reach my goal more than I used to and it has also made me stay healthy.
Sports and PE make me lively and want to do more!
My best achievement in sport is getting into the athletics team every year!!! I really enjoy running, so I think that is my best achievement.
Aimee
My best achievement in sport is becoming a level one in gymnastics.
I have attended fencing, gymnastics and sports club. I have learned new and better techniques.
Amy
I have benefitted from sport as I have learned to work more as a team. I really enjoy sport and PE and try to do lots!
Caitlin Cotter
Best achievement was being in the cricket team. But sadly, we came second and the Vale School came first. But it was about taking part, not winning
Lauren
My best achievement in PE is that I've learned how to do handstands........ I love sports and I really like it when I get into a tournament!
Aoife
My best achievement in sport was when I got first place, three times in cross-country in Year 3.
I enjoy any sport which is active and where you run around.
Sophia
I have enjoyed a lot of sport, but my top three would be cross-country running, rugby and last but not least, cricket.
I love PE so much – it's my favourite thing to do, along with maths!
The Vale Inclusive Dance Festival and PE lessons