Welcome to Hedgehogs Class page!
The Queen's Platinum Jubilee celebrations are well underway in Hedgehogs Class, preparing for the School event on Friday 10th June!!
Another practical and lively Science lesson: MARVELLOUS MIRRORS - learning about REFLECTION!
TERM 5 LETTER:
Hedgehogs Class Information
25th April, 2022
Dear Parents/ Carers,
Welcome back to Term 5! We hope that you have had an enjoyable and healthy Easter break and have made the most of some dry and warm weather over the holidays, taking in the start of Spring at its best! We really enjoyed the opportunity to have face to face parent consultation meetings with many of you just before we finished for the Easter break. We're aware that for most parents, that was your first visit into school for a long time and certainly your first chance to come into Hedgehogs Classroom this year. Mrs Ellery is planning on organising an afternoon when you will be able to spend more time looking around the classroom and see the children's work, so please look out for dates that will be announced in due course.
Terms 5 and 6 will be as busy as always and we are looking forward to the summer term; always a favourite with lots of outdoor learning more possible as the weather is kinder to us!
Below are a few reminders for the weeks ahead.
PE Kit and related items
PE will take place on Tuesdays (Dance) and Thursdays (Rounders). The children will continue to come into school wearing their PE kits for these days which consists of trainers, navy blue shorts, a white t-shirt and a tracksuit if the weather is cold.
Year 4 Swimming: This will take place on Wednesday mornings and your child will need their named swimming costume / swim shorts and a towel.
Please remove your child's earrings on PE days or put tape over the earrings. If your child can remove their own earrings, please provide a small envelope for them to be kept safe. Staff are unable to remove or put earrings in.
A named water bottle is essential and a regular drink of water can help improve your child's concentration during the day.
On warmer days, please ensure your child has a named sunhat in school and, if appropriate, apply sun-cream before they come into school. Of course, if it is very hot, children may bring some named sun-cream to school to re-apply at lunchtime.
Can we please gently remind you that ALL uniform must be clearly named. By the end of last term, a rather large pile of unnamed jumpers / cardigans / t-shirts / P.E. fleeces had built up outside Hedgehogs Classroom. Please do ask your child to check lost property if you feel they are missing clothing, but it of course saves us a lot of time if items are clearly marked with your child's name and staff can then quickly return items to the rightful owner!
Healthy lunchboxes
As Debbie mentioned in an email at the end of last term, can we please remind you that if your child has packed lunches, they need to be healthy and balanced. It's been noted that many children's lunchboxes are not what we deem to be healthy. Many contain a lot of high sugary foods and crisps but do not contain more substantial sandwiches, wraps or fruit and vegetables that will sustain children throughout the afternoon and contribute to a balanced diet. As a school we aim for healthy lunch boxes. Please send your child to school with a healthy selection of foods in their packed lunch. Some children have squash in their water bottles: only water is permitted in water bottles please.
Reading
Please encourage your child to read at home and note your signature in their reading journals to show that you have heard them read. The Reading Journal should be kept in their book bags, so that the staff can monitor reading, add comments during the week or read comments from home. Home reading books will be changed by the children on completion and a mini-review / rating by them in their Reading Journal would be ideal before returning the book.
Children will also continue to read with a teacher during Guided Reading Sessions and they will be able to choose a book from the class library once a week. We hope to introduce regular visits to the school library also.
Homework
Our exciting topic is "Journeys" - for more details about this topic and other subjects please refer to our topic web on Hedgehogs Class page on the school website. Homework will continue to be sent out on a Friday, to be handed in at the latest by the following Thursday (they will be required to do it in their Homework book, unless otherwise stated).
A spelling overview for Term 5 will be handed out in the first week of term and the children will be tested on the words they have learnt each Thursday.
The children are encouraged to learn their times tables and they will complete a 'times table challenge' each week in school. Please continue to help your child to learn their multiplication and division facts at home and to log onto Times Table Rock Stars during the week. If the children did two rounds of TTRS per week, it would help them to build up their knowledge by rote and speed. Each child have been given an individual username and password so they will be able to access the game from home. The children have also been given ID and passwords for Mathletics and Gooseberry Planet in their Homework Books. Homework will be set for them each week to log into one or more of the programmes.
Don't forget to have a regular look at our class page on the school website; we are now able to add more photos and updates about day to day learning so it is always a good conversation starter with your child when you see some photographs of their learning on the website!
Finally, if you do have any concerns about any aspect of your child's learning, please email the school office and we will be informed. We look forward to teaching your children and helping them to do their best each day!
Yours sincerely,
Mrs Lucy Hanna
Mrs Anna Loughlin
MONDAY 28TH MARCH: HEDGEHOGS SPONSORED ACTIVITY SESSION! Please read below and please donate on the Just Giving Page.
WE DID IT!! 2.5 MILES OF FUN ACTIVITIES COMPLETED IN THIS MORNING'S SUNSHINE!! WELL DONE HEDGEHOGS!
Don't forget - you can still donate via the Just Giving link (see below)
Dear Parents,
KS2 are doing a sponsored event at school to raise money for the Cardinal Hume Centre.
The Cardinal Hume Centre supports homeless young people, badly housed families and people from the local community with little or no income. They aim to give people the skills, tools and confidence to break out of poverty and build better lives.
Hedgehogs sponsored event will be a Fun Keep Fit session, whereby we do as many different exercises over a timed period. This will take place on Monday 28th March. To add a fun twist to this, we will also be using our class name, "Hedgehogs" to incorporate some of the traits of a hedgehog into our activities! Please see the reverse of this letter for more information. You'll see that dressing up as a hedgehog is completely optional, but we would encourage children to come dressed in colours of hedgehogs, or a few painted faces would be lovely to see! All that we ask is to ensure that your child can participate in activities in the clothing that they choose to wear!
We will vary the pace and intensity of our exercises to make sure that everyone is able to enjoy and keep going during our sponsored event. Joe Wicks watch out!!
Please follow the link to donate on the school's Just Giving Page: (sponsorship forms have also been sent home).
Key Stage Two Saint Amand's is fundraising for Cardinal Hume Centre (justgiving.com)
Thank you for your support,
Mrs. Loughlin and Mrs Hanna
DAY 1 OF SCIENCE WEEK HAS BEEN VERY HANDS-ON!
Celebrating our amazing work during Term 4
SCIENCE LESSON: STRING TELEPHONES! Investigating how sounds change over distance.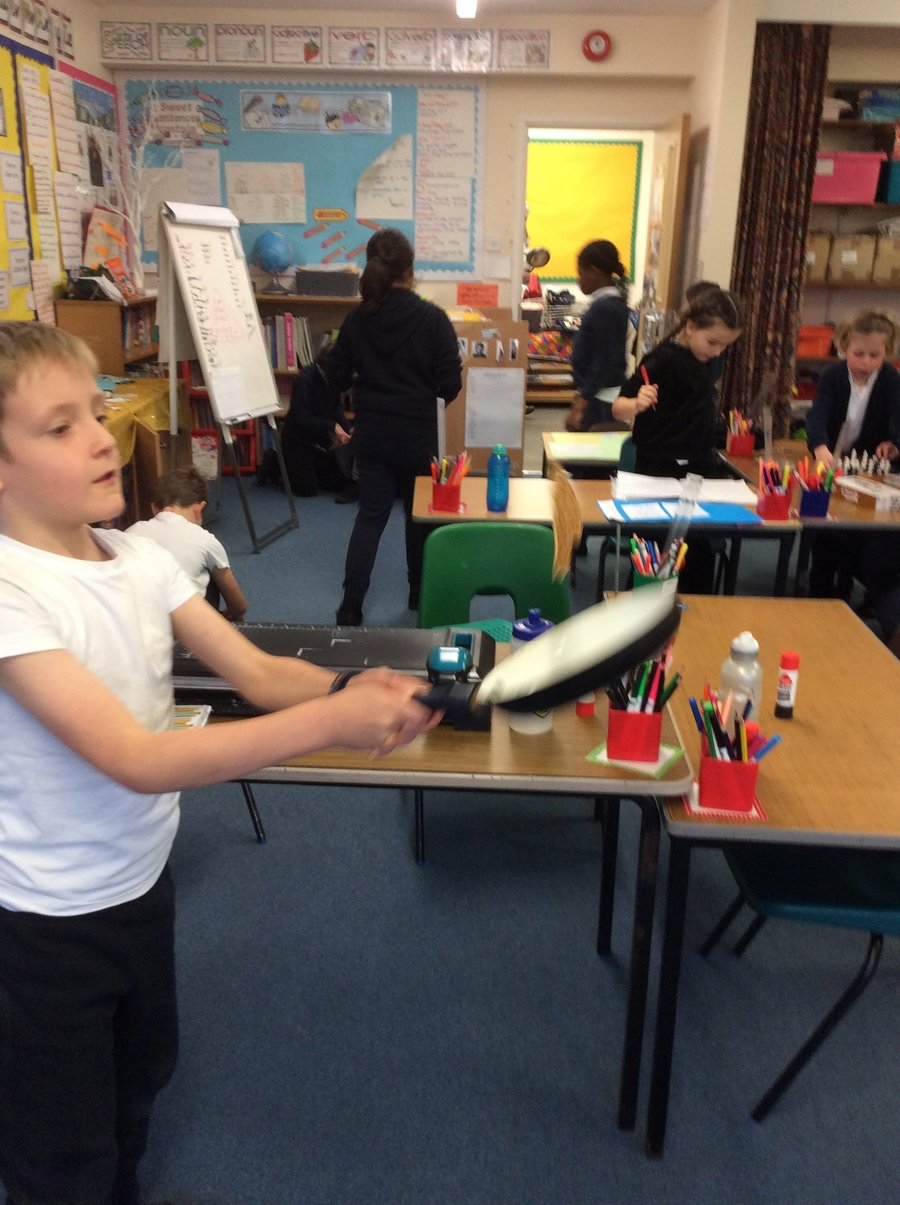 And the winner for tossing the most pancakes is.....Tommy!
Exploring pitch by making our own pan pipes!
Term 4 Gold Book and Star of the Week Awards