Red Kites Class enjoyed an afternoon with ten chicks that had recently hatched at school! They were a joy to have!
Another wonderful hour of relaxation with Hayley from 'Clear Minds, Steady Breath'. We continue to remain relaxed, focused and ready for learning.
Happy Easter from Red Kites!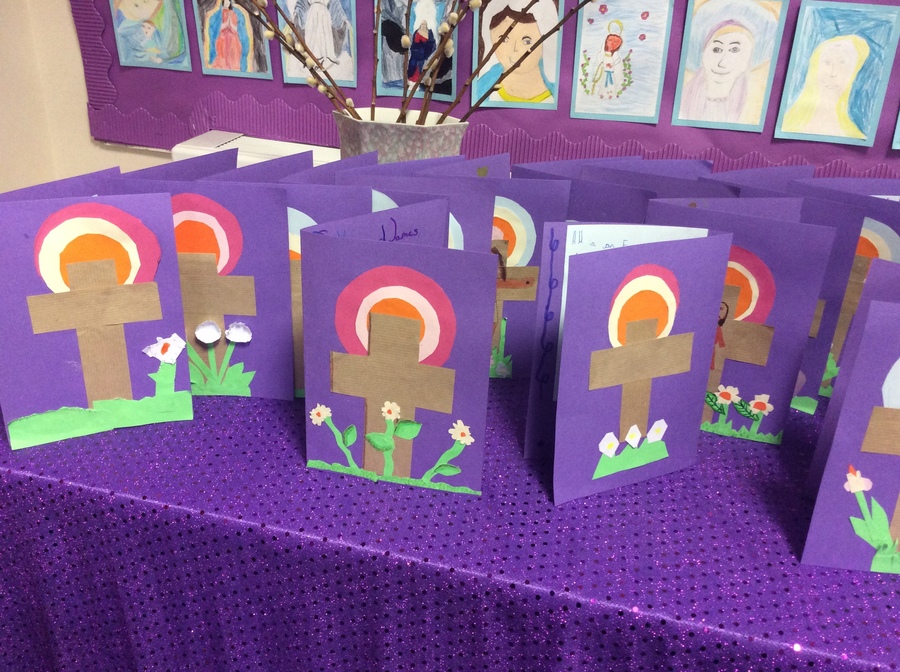 Here are our entries for The Big Science Event
When reading Treasure Island ...
we had to make our own treasure chests!
Cardio Combat with Claire
Pirate Maths Treasure Hunt!
Our William Shakespeare Portraits
Exercising with Hayley from 'Clear Minds, Steady Breath' helps us maintain our
flexibility and also helps with our concentration levels.
Today we visited IMPS (Injury Minnimilisation Protection for schools), at Abingdon Hospital. We practised CPR and the recovery position. We found out what to do in different accident and injury scenarios and lastly we had a cast made for our finger! It was a great day and we were commended for our excellent behaviour!
The Dance Show - New Theatre, Oxford. This year's theme 'Once Upon a Time'. The children choreographed their own mini traditional tales with some very creative and dramatic dance moves!
We researched the many different names for Mary.
Sketching and dissecting flowers, learning about the different functions.
Filming the 'breaking news' using green screen technology.
Who committed the crime in the story of Cain and Abel?

Red Kites focused on their speaking and listening skills.
Crime Scene ...
What clues lead you to the Bible story?
What can we learn from this story?
How will we present as a group?
Red Kites love 'extreme reading'. Books can be read anywhere and everywhere!
We'll be trying it outside soon ... pictures to follow!
Dr. Suzy visited Red Kites class to explain the function of the heart. She gave them hearts to investigate and explained the heart's function through drama. The children listened to their hearts through stethoscopes and the afternoon ended with a quiz. Dr. Suzy presented Red Kites each with a pack of 'love heart' sweets for doing so well! A fun afternoon with so much learning.

The Egyptian Creation story retold through drama.
Red Kites enjoyed many team-building activities on the first day of term. This was a 'blind maze'. Instructions needed to be very clear!
Autumn term 2 - Subject Information
Dear Parents and Carers
Welcome back to another new school year for year five and six in Red Kites! A year of exciting opportunities, rewarding experiences and challenge! As always, pupils are expected to work hard but in return, they will be rewarded with many happy memories, lasting friendships, and an increased confidence to take them forward.
As well as reaching their full potential academically, there will be plenty of opportunities for pupils in both year five and year six to participate in key roles and responsibilities within the school. Year six will be well-equipped for their transition to secondary school and year five will be filled with confidence and enthusiasm as they prepare for year six.
We hope your child enjoys their time in Red Kites at St Amand's and I look forward to working with them.
PE Kit
PE will take place on Wednesdays and Thursdays.
PE kit, including trainers and tracksuit should be brought in on Monday and kept in school all week; all kit should be clearly labelled. Earrings should be removed before PE.
Reading
Please encourage your child to read at home; our web site contains an age appropriate, recommended reading list, which you may find helpful.
Your child should have brought home their Reading Record/Journal. In Upper Key Stage 2, we encourage children to keep their own reading record, in order to foster independence. During the course of the year they should refer to their targets and complete the reading journal activities. I will endeavour to hear your child read regularly to include: guided reading, reading aloud, drama activities and in front of an audience.
Children will be able to choose a reading book from the class or library book, from the school library.
Spelling
Children will learn spelling rules at school and apply these through a dictation task to be carried out each week. Children have curriculum words to learn and a copy of these will be sent home. I will advise children to focus on a certain number of words each week. The children will practise these words during early morning work.
Homework
Children will have various homework tasks, either linked to their school topic or to areas of learning in school. Children must revise their multiplication and division facts for all tables up to 12 times table. Year six children will work through SATs revision booklets at the beginning of term three. If they have any difficulties, then please do not hesitate to contact me.
Topic
This term the children will be learning about the Ancient Egyptians and a homework grid will sent out soon.
If you do have any concerns or worries about any aspect of your child's learning do come and speak to me. Please email the office to make a mutually convenient appointment.
Yours Sincerely
Mrs. Joy Baker