Catholic Life of the School
Mini-Vinnies
Mini-Vinnies is a St Vincent de Paul group of children in Yr 5. Children decided by their own accord, to take the Mini Vinnie pledge October 2019.
They get together every two or three weeks to organise and talk about helping others in need in our school and local community and beyond. Our Mini-Vinnies group is coordinated by Mrs Kershaw.
What is the St Vincent de Paul Society?
The St Vincent de Paul Society (also known as SVP) is international Christian voluntary organisations initially formed in Paris in 1833 by Blessed Frédéric Ozanam and his companions, and active in England & Wales since 1844. Placed under the Patronage of St Vincent de Paul, it is inspired by his thinking and works. It seeks, in the spirit of justice and charity, to help those who are suffering poverty in whatever form. Blessed Frederic Ozanam encouraged members to make sure that their work was 'full of unlimited kindness.' He said, "You must give your time, your talents, yourselves."
Mini-Vinnies Collective Worship
The Call of the Disciples
Matthew 4: 18
Christmas Charitable Contribution 2019
The Yr 5 MiniVinnies group have chosen to support the Catholic Charity The Apostleship of the Sea for their Christmas fund-raiser. This charity supports sea-farers and sailors by visiting them on board their ships, organising pastoral and welfare care for them when they are in port and providing friendship and practical help where needed.

There are some short films about their work:

https://www.apostleshipofthesea.org.uk/aos-film

We can share God's love with seafarers this Christmas!

By making a donation this Christmas we will be helping to distribute gifts to seafarers across the UK, as well as helping seafarers to attend Mass – either at local churches or onboard their ship. We will provide a rare opportunity for seafarers to worship and share in the real joy of Christmas.

The MiniVinnies asked everyone to wear a Christmas jumper to school on Friday 13th December and to make a donation to this appeal. We raised £120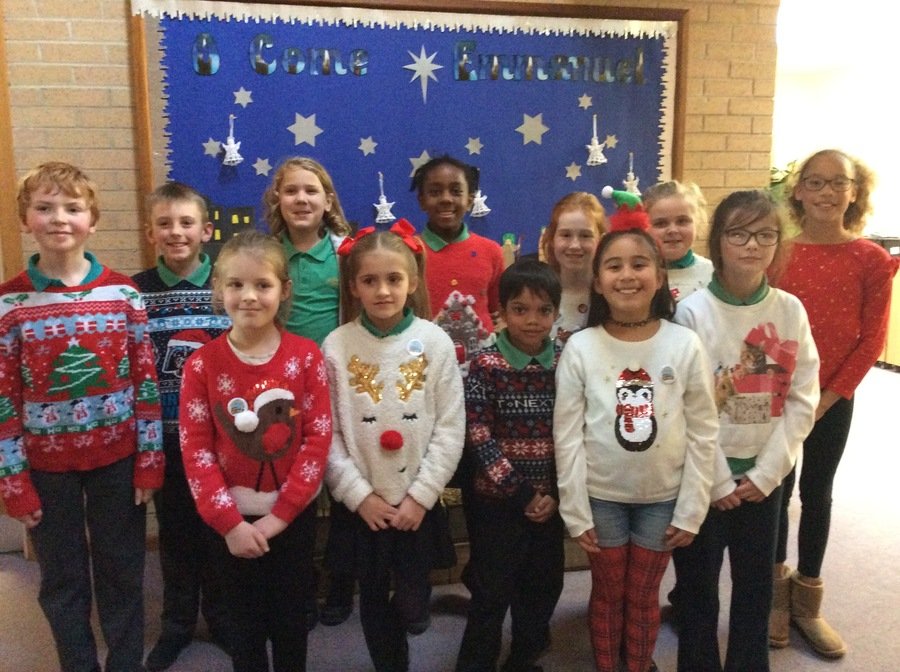 Prayer life of the school
Scripture and prayer day led by the Dominican Sisters in January
Class Worships
Last year
The Mini-Vinnies raised money during Advent to buy homeless packs for people in the Oxford area.
In Lent the whole school community contributed 52 back packs for Mary's Meals- a charity who provides one good meal to some of the world's poorest children every day they attend school. The back packs enabled these children to go to school with clean clothes, sandals and stationery.