Dear Children
Thank you for all the lovely letters that you sent to me. I love receiving letters which I think are so much nicer than an email. I think I have had about 30 from children who are at home. I am glad that you have all enjoyed spending more time with your families and have learnt new skills.
The overall conclusion is that you all miss school and can't wait to come back to see your teachers and friends.
We miss you too and can't wait to see you all in September.
See you soon
From Mrs Ellery
Our Mission Statement
We work together, play together, pray together and always do our best.
We show enthusiasm for our learning.
We love one another as Jesus loves us.
We look after his world and everything in it.
We listen to God and praise him together.
Children's Easter Gardens
Thank you for sending in your photographs.
Earth Day 22 April 2020
Children at school created these. Can you send in your artwork to add to our gallery?
Ofsted Inspection Report - September 2019
We are a Good school.
Personal Development and Behaviour and Attitudes are Outstanding.
"Pupils enjoy coming to school...they enter with excitement and leave smiling."
"Their behaviour is impeccable."
A parent wrote that staff 'do a terrific job for our children....day in, day out.'
World Book Day 2020
We all dressed up as adjectives!
We won the Rotary Style Public Speaking Competition which took place at Blessed Hugh Farringdon School.
Is Climate Change Really happening?
Squirrels class trip to listen to the Southern Pro Music Orchestra Children's Concert.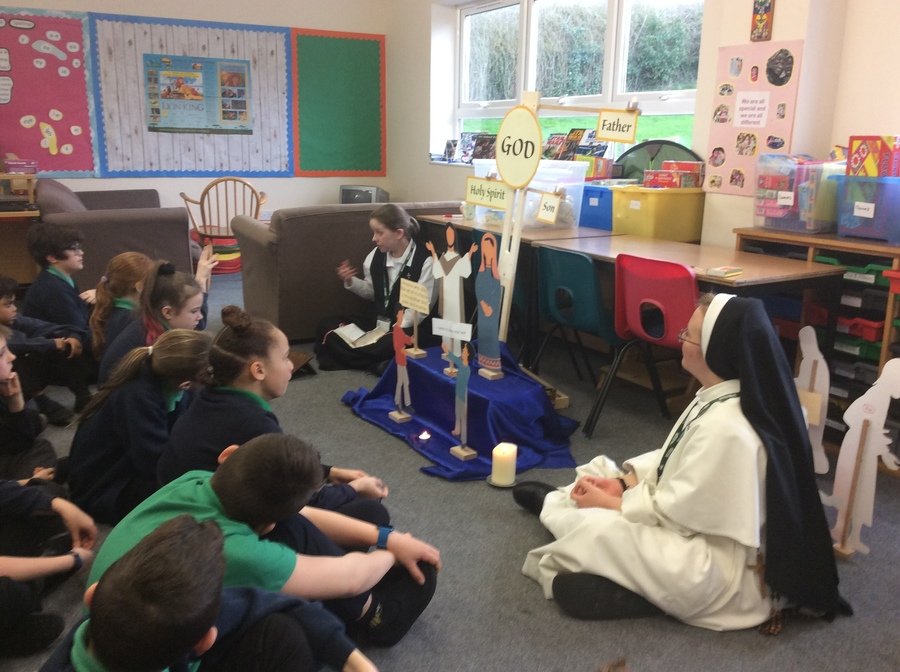 Following the visit by the Dominican Sisters, they sent a lovely email.
'On visiting St Amand's we were immediately struck by the warm atmosphere of the school, particularly by the friendliness of the teaching staff and their care and concern for the children. During our sessions with the children we found them to be focused and enthusiastic, with a notably thorough knowledge of the Faith for their age, and we were very taken by how seriously and attentively they engaged with the times of prayer. It was particularly striking that the children are comfortable and familiar with forms of prayer such as Adoration of the Blessed Sacrament and have a very high standard of behaviour in church.
Christmas 2019
Infant Nativity 2019
Reading afternoon with grandparents and aunties.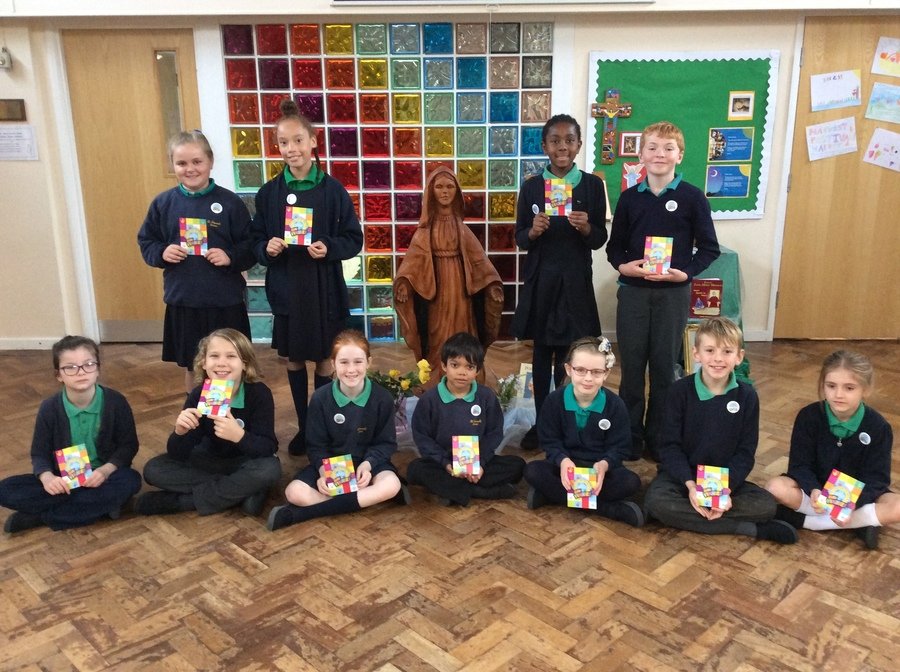 For more information about the Mini-Vinnies work please see the Catholic Life of the school
Rabbits class read their letters about creation, based on Pope Francis' Laudato Si', to Red Kites class.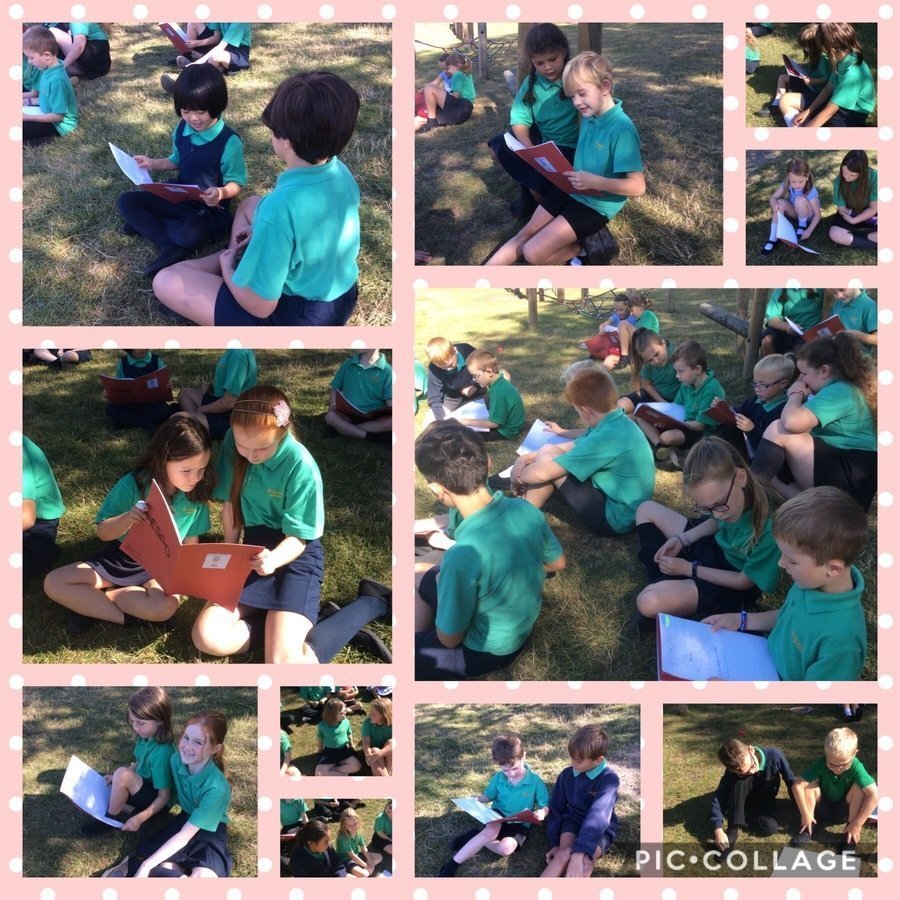 Cinderella Rockefeller Summer Play
Caritas Portsmouth 2019
Two House Captains and two School Councillors took part in a Dragon's Den style event in March. They successfully bid for funds from the kind 'Dragon's' in Portsmouth Diocese, and won £400 towards their Stirling Project. This means that we can go ahead with forging links with the Stirlings Residential Home in Wantage. We are looking forward to welcoming the residents to St Amand's in May for an afternoon of music, cake and activities.
Mary's Meal's Back Packs
During Lent, the Mini-Vinnies promoted the donation of back packs. We collected 52 back packs for Mary's Meals, a charity that supports the poorest children by providing a daily meal in a place of education. The gift of a back pack, may be the only gift that a child may receive. What a great effort from our small school! Thank you.
The Climbing Wall on a very cold day in January.. but what a fun day it was!
Yenworthy Residential 2019
Year Six had an amazing time on their residential visit to Yenworthy, North Devon. Much fun had, even though it was January! We were lucky enough to see an RAF Hercules aircraft land and take off again! All staff at Yenworthy said that the children were a credit to St. Amand's!
What a delightful visit from Eileen Browne, author and illustrator of Handa's Surprise.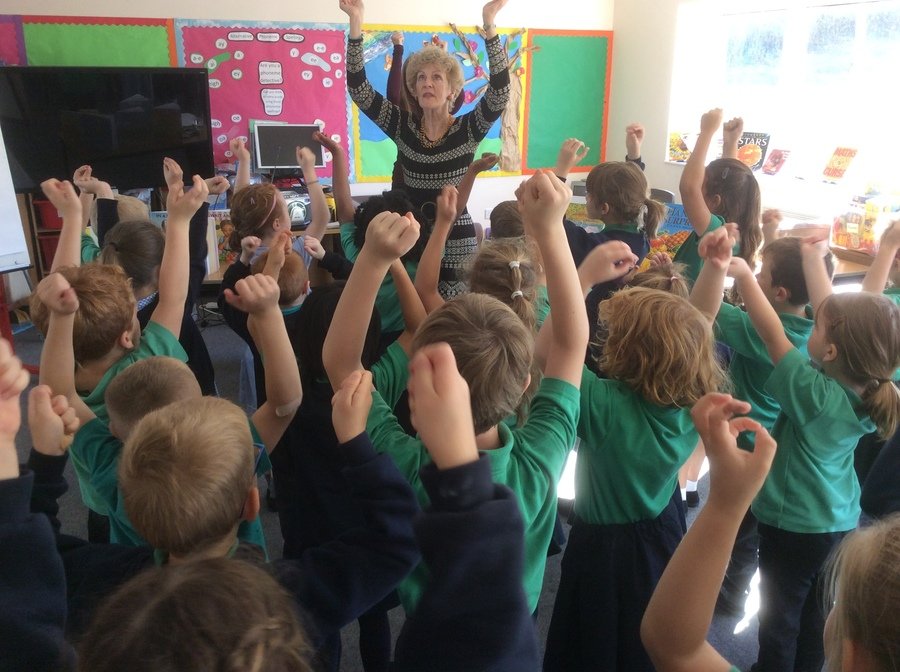 The author of Handa's Surprise was a visitor to Owls and Rabbits classes on Tuesday. They had a workshop each. Eileen told them how she created the book and demonstrated some of her illustrations. She read them some of her other stories.
Results of our Parent Survey July 2018
All parents responding agree that St Amand's ensures that children are well-behaved (72% strongly agree)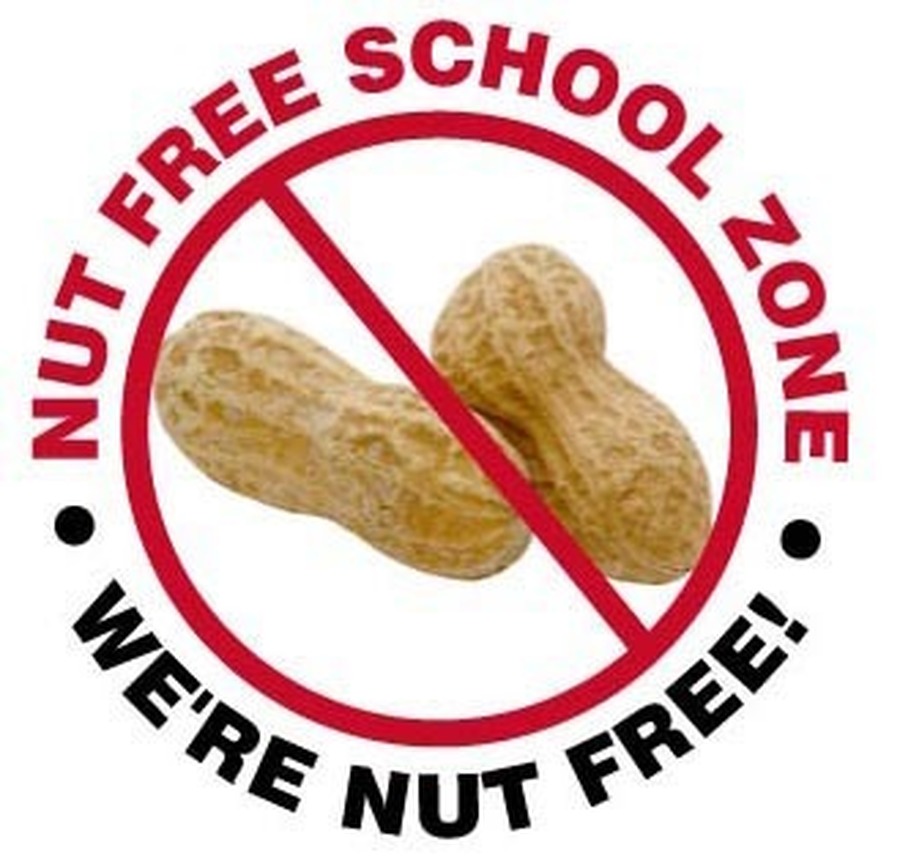 Latest School Events Events
End of school year

17

Jul

2020

8:55 am - 1:30 pm

School closes at 1.30pm

School Holiday

18

Jul

2020

School Holiday

19

Jul

2020

INSET Day

20

Jul

2020

12:00 pm - 12:00 pm

School closed

INSET Day

21

Jul

2020

12:00 pm - 12:00 pm

School Closed